Healthy, vibrant, and still full of flavor, this bowl gives you diversity plus deliciousness. The beets take a bit longer to roast, so pre-roast them to save time and this meal could become quick and easy.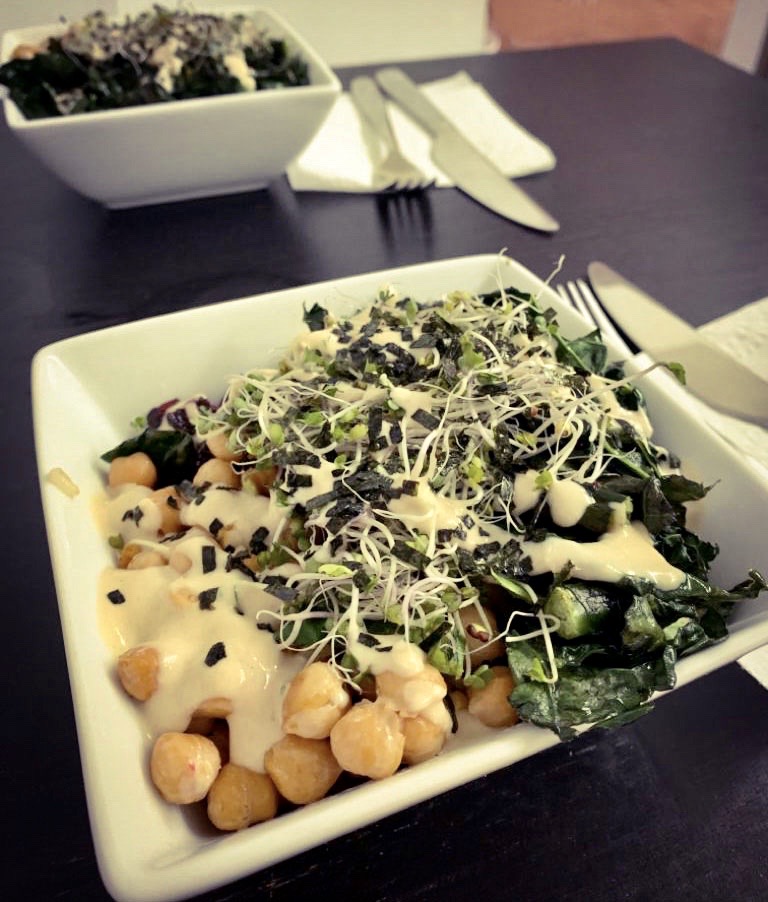 Ingredients: (serves 2)
1 cup brown rice pre cooked
1 cup chopped beets
1 can chickpeas
1 bunch kale
1/3 cup sprouts
1 Tbsp olive oil
1 lemon juiced
1 Tbsp miso paste
3 Tbsp Tahini
3 Tbsp water
Furikake or sesame seeds for topping
Preheat oven to 400 degrees.  Chop beets and dose in 1/2 Tbsp olive oil.  Roast for 30-40 minutes until tender. In 2 separate sauce pans, saute the chickpeas in one and the kale in the other using the remaining olive oil.  Stir the sauce together in a small bowl whisking the miso, lemon juice, tahini, and water until blended.  Begin to top your bowls starting with the rice as the base, and placing beets, chickpeas, kale, and sprouts on top, finishing by drizzling the tahini lemon sauce.  Sprinkle with furikake or sesame seeds and serve with extra sauce on the side to keep adding on!
Veggie Yum Lasagna (vegan)
Comfort food meets nutritional goals.  This incredible completely veggie based lasagna is not only extremely healthy but loaded with flavor and creamy goodness.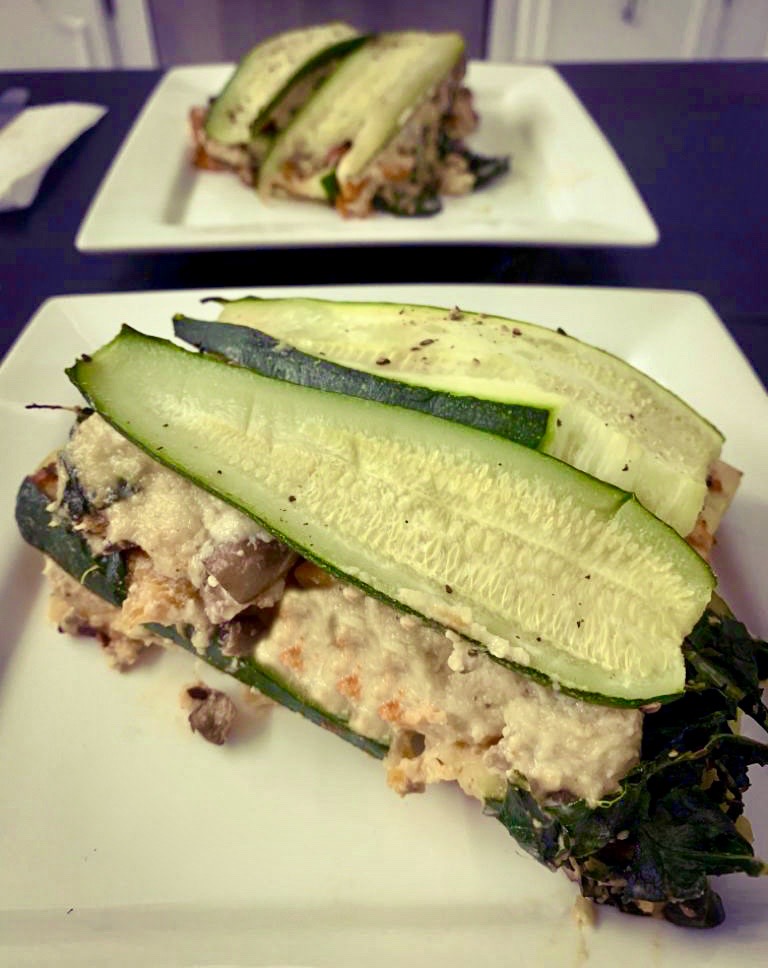 Ingredients: (serves 2)
3 large zucchini
1 cup chopped butternut squash
1 cup chopped mushrooms
1 cup chopped kale
1 cup raw cashews
1 lemon juiced
1 Tbsp miso paste
2 Tbsp nutritional yeast3/4 cup water
2 Tbsp marinara sauce (use any brand/flavor you like)
salt and pepper to taste
1 Tbsp cooking oil
1/2 tsp garlic powder
Preheat oven to 350 degrees. Cut zucchini into long "noodles" at least 1/4 inch thick. Too thin your lasagna will fall apart.  We recommend chopping them length wise to create big long strips.  Place zucchini in a large sauce pan with 1/4 cup water and cover with lots of salt and pepper, put a lid on and steam for a few minutes until tender with a fork.  Finely chop your butternut squash and roast in whichever oil you prefer (coconut, olive oil, etc.) plus a 1/4 tsp garlic powder for a few minutes, then add in your mushrooms for a few more, and finally your kale to finish.  They don't need to be fully cooked just softened a bit. During this in a food processor or blender mix your cashews, miso paste, nutritional yeast, and 1/2 cup water, and 1/4 tsp garlic powder to make "cashew cheese."  Once everything is ready, find a baking dish and line with parchment paper and rub a fine layer of "cashew cheese" as your base.  Start to lay out your zucchini noodles and layer with 1 tbsp marinara, 1/2 of all your veggies, and top veggies with 1/2 of your "cashew cheese."  Place another layer of noodles, and layer up again the marinara, veggies, and "cashew cheese."  Finish with final layer of zucchini noodles.  Place this dish in the oven for 30 minutes until everything softens together.  Serve with some vegan Parmesan (or real parm if you aren't vegan) and enjoy this magical blend of health and comfort.
Mexican is everyone's favorite, am I right?  These beauties have a kick and a crunch.  We're here for it.
Ingredients: (serves 2)
2-3 cups chopped mushrooms (the more the better tbh cuz they shrink down)
1/4 cup orange juice
1 Tbsp soy sauce
2 limes juiced
1/2 Tbsp liquid smoke
1/4 tsp garlic powder
1.5 tsp cumin
1.5 tsp paprika
1/4 tsp black pepper
1.5 tsp oregano
1-2 tsp chili powder
1/2 cup sour cream
1 tsp honey
1/2-1 tsp siracha
Corn Tortillas
Cilantro for garnish
Optional avocado, pico de gallo, or hot sauce topping
Preheat the oven to 400 degrees.  Chop up the mushrooms and place in a large bowl with orange juice, soy sauce, liquid smoke, and juice from 1 lime.  Soak for 10 minutes or more.  During this mix up all the spices in a separate bowl, adjusting the chili powder for your spicy preference, but also leaving out 1/2 tsp cumin for the sour cream sauce. Toss the soaked mushrooms in the spices until thoroughly coated.  Place on a baking sheet lined with parchment paper and bake for 30-35 minutes, checking and rotating after 20 minutes if some are burning on the edges. While the mushrooms are baking, mix the sour cream, 1/2 tsp cumin, juice of 1 lime, honey, and siracha measured to your spiciness preference.  Once mushrooms are done, serve on warmed corn tortillas with ample sauce, and top with cilantro, and any other additions you like such as avocado, pico, or more spicy sauce!
Next Level Ginger Salad (vegan)
Better than your favorite restaurant I swear to you.  This recipe was inspired by our fave GoBistro salad and tbh we topped theirs. Worth the work.
Ingredients: (serves 2)
Mixed greens
Bunch of asparagus
1 Avocado
1/2 cup shredded carrots (best to do by hand not buy pre-shredded)
1/2 cup minced celery (1-2 stalks)
1 cup minced carrots (2-4 stalks)
2 tsp minced ginger
1/4 tsp garlic powder
1/2 cup avocado oil
1/2 cup mayo (vegan or regular)
2 Tbsp soy sauce
Juice from 1/2 of one lemon
1.5 Tbsp rice vinegar
3 tsp coconut sugar
1/2 Tbsp olive oil
Salt and pepper to taste

Preheat oven to 425 degrees. Chop up your asparagus to desired size, douse in 1/2 Tbsp olive oil and roast in oven for 15-20 minutes.  During the roasting, place chopped carrots in a blender to mince, and repeat with your celery after.  Mince the ginger by hand with a grater, and also shred your extra carrots by hand with a grater.  Set shredded carrots aside but mix all minced veggies and ginger in a bowl.  Add in all remaining ingredients, avo oil, mayo, garlic, soy, lemon juice, rice vinegar, coconut sugar, and salt and pepper to taste.  In a bowl place greens, chopped avocado, shredded carrots, and asparagus.  Top with copious amounts of dressing and drown yourself in deliciousness.