Get some greens in while enjoying the delicious comforts of a nice warm bowl of pasta.  Can be made with any pasta, our favorite is spiral but we've tried it with penne and angel hair also.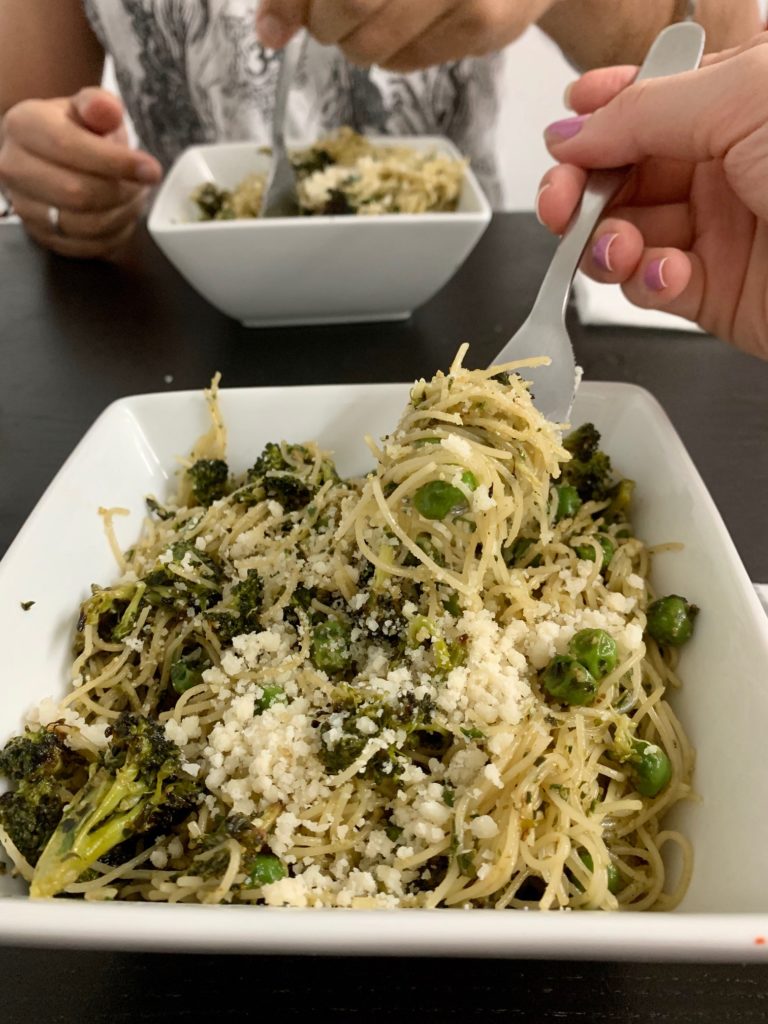 Ingredients: (Serves 2-3)
1 large head of broccoli
3-4 Tbsp olive oil
1 cup frozen peas
1/4 cup walnuts
1/3 cup parmesan
1/4 tsp garlic powder
1 Tbsp veganaise (or regular mayo)
1/2 tsp sugar
1-2 cups fresh basil
2 Tbsp pasta water
salt and pepper to taste
Pasta of choice

Preheat the oven to 425 degrees and start boiling your water for the pasta. Chop broccoli into small pieces and massage with 1 Tbsp olive oil.  Bake for 15 minutes.  While the broccoli is baking sauté the peas in a 1/2 Tbsp olive oil for about 7 minutes.  Cook the pasta according to the directions given on the box.  While this is happening make the pesto, mixing basil, parmesan, 2-3 Tbsp olive oil, garlic, veganaise or mayo, walnuts, pasta water, sugar, salt and pepper in a food processor or blender.  When all is ready mix it all together and top with extra parmesan because cheese is life.
Everything is better fried.  It's a well known fact.  Sweet potatoes are no exception.  Still a vegetable so you can consider yourself health conscious.
Ingredients: (serves 2)
1 large sweet potato
1 Tbsp fresh minced ginger
1/4 tsp garlic powder
1 egg
1/3 cup + 1 Tbsp all purpose flour
1/2 tsp cinnamon
1/2 tsp salt
Avocado Oil for Frying
Mayo mixed with Ketchup for dipping
Wash and grate the sweet potato so that it becomes shredded.  Also grate or mince your ginger as needed. Mix together sweet potato, ginger, garlic, egg, flour, cinnamon, and salt.  Heat oil into a large pan.   Shape your little fritters into small patties 1/2 inch deep and 2 inches across.  Fry them for 2-3 minutes on each side and serve with mayo/ketchup mix for a satisfying crunchy rico snack.
Brown Butter Crispy Gnocchi with Brussels
Butter is God's gift to earth. When you brown it it's like a full blown worship.  100 percent would recommend to literally always eat butter in browned form. Also crispy gnocchi is a wow.  Y'all gonna scarf this stuff up.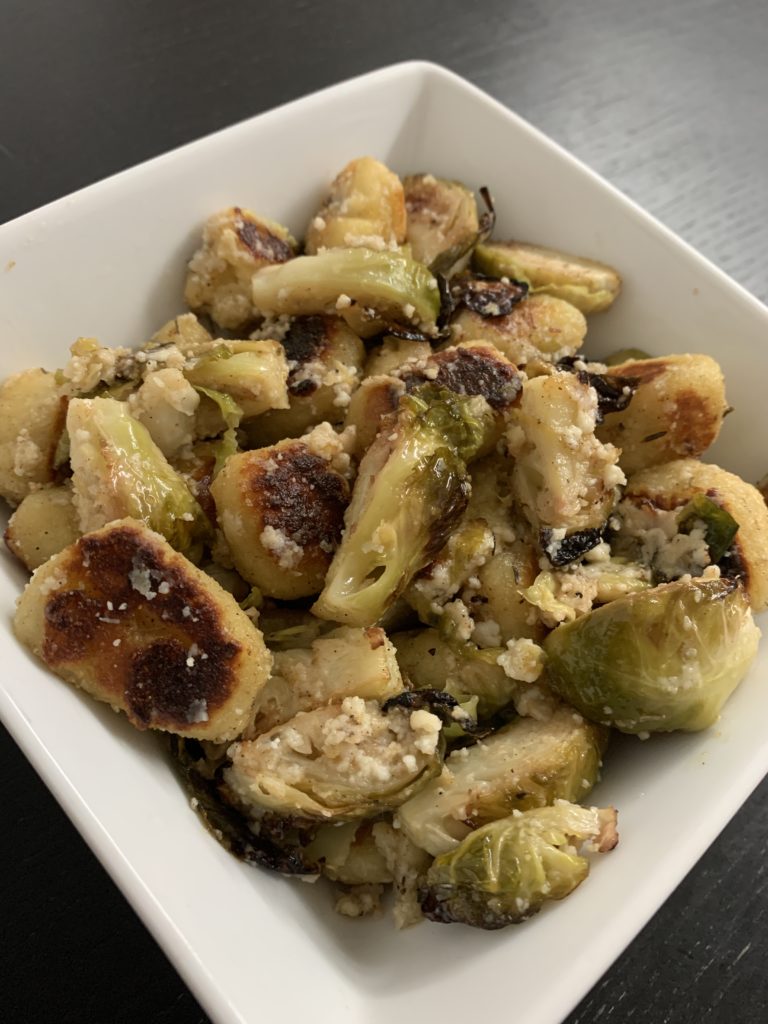 Ingredients: (serves 2)
1 container premade gnocchi
1 bunch brussels sprouts
1 Tbsp olive oil
1/2 tsp thyme
1/2 lemon juiced
Zest from 1/2 lemon
salt and pepper
1 tsp nutritional yeast
1/4 tsp garlic powder
1 tsp honey
3 Tbsp browned butter
1/2 Extra Tbsp olive oil
Parmesan Cheese for topping

Preheat oven to 425.  Chop your brussels and toss them with lemon juice and zest, 1 Tbsp olive oil, thyme, salt, and pepper.  Bake for 20 minutes.  While they bake brown your butter by melting and cooking until it turns a deep amber color and emits an incredible nutty fragrance.  Cool the butter and then add nutritional yeast, garlic, and honey.  Set aside and crisp up your gnocchi by heating your extra 1/2 Tbsp of olive oil and cooking the gnocchi for a few minutes on each side until they get browned and crispy.  Mix everything together in the end and toss with copious amounts of parmesan to live your best indulgent life.